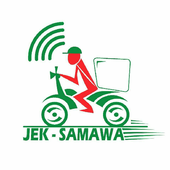 The Description Of JEK Samawa
Jek Samawa adalah layanan ojek online pertama di kota Sumbawa.

Jek-Samawa adalah layanan ojek online berbasis aplikasi pertama di kota Sumbawa.

Beberapa layanan yang tersedia dalam aplikasi Jek-Samawa:

Jek-Ride : Layanan antar jemput orang.
Jek-Food : Layanan belanja makanan dan minuman dari mitra Jek-Food.
Jek -Send : Layanan antar jemput paket kiriman dan dokumen area dompu dan sekitarnya.
Jek-Mart : Layanan belanja aneka keperluan rumah tangga, kantor dan lain-lain.

Dengan hadirnya Jek-Samawa di harapkan dapat memberikan kemudahan bertransportasi di wilayah kota Sumbawa.

Layanan Driver memberikan memberikan penghasilan tambahan pada setiap driver Jek Samawa tanpa ada keterikatan.

Daftar mitra gratis untuk untuk mitra dan mengembangkan usaha para mitra dengan memberikan kemudahan bertransaksi.

Pakai saldo Jek-Samawa memberikan kemudahan dalam bertransaksi.

[Kontak kami]
Website: https://jeksamawa18.blogspot.com
Email: jeksamawa@gmail.com


***********


Disclaimer:
Aplikasi ini dibuat dengan menggunakan software pembuat aplikasi dan/ atau ditawarkan oleh pihak kedua. Segala tanggung jawab mengenai konten dan transaksi ditanggung oleh pembuat aplikasi. Tetap hati-hati saat bertransaksi di luar aplikasi. Anda dapat melaporkan aplikasi ini apabila dirasa telah melanggar ketentuan yang ada.
JEK Samawa Additional Information
Latest Version:

2.29

Publish Date:

2019-08-26

Requirement:

4.1 and up
Post a comment below
There are no comments yet.
Authentication required
You must log in to post a comment.
Log in